T.I.C.K.S. Rules for Safe Babywearing
When wearing your baby, be sure to follow the 5 TICKS rules for keeping your baby safe.
| | |
| --- | --- |
| Tight | The carrier should fit snugly around baby. Baby should completely fill the carrier. There should not be slack or gapping. If you press gently on baby's back, baby should not get closer to you. If you (gently, while supporting baby) lean forward, baby should not fall away from your chest. If you are using a buckle carrier that recommends an infant insert, the insert MUST be used until baby fills out the carrier and can fit comfortably knee-to-knee. If you are using a wrap, there should be no areas of loose, bunched up fabric. All of the fabric should be snug. |
| In View | You should not have to move any material aside to see baby's face. Baby's airway should not be obstructed or covered. A baby with a covered face is breathing in his/her own exhaled carbon dioxide. A paneled carrier should not come up above baby's ears. A wrap should not have any passes covering baby's face. A sling should not cover up baby's face. |
| Close Enough To Kiss | In a front or hip carry, baby should be high enough that the wearer can gently lean their head down and kiss baby's head without straining or having to lift baby higher. This assists with both of the first two rules, as well as the next one. For back carries, carriers like woven wraps, meh dais, and onbuhimos should have child high enough to look over the wearer's shoulders. (An onbuhimo should ideally have baby's shoulders even with the wearer's.) In an SSC, back carries can generally be lower, so long as all straps are tightened properly, the waist band is level with the ground (not angled up or down in the front) and the body panel is not sagging. |
| Keep chin off chest | Baby needs a clear airway at all times. Small babies, especially, can asphyxiate simply by tucking their chin to their chest and cutting off their own air supply. Be sure that you can, at all times, fit two fingers under baby's chin. For this reason, BWI does not support the use of any kind of cradle carry (carrying the baby laying horizontally in a pouch, sling, or wrap) unless they are actively nursing (and they should be moved back upright as soon as they are finished.) While it is possible to cradle carry safely, it is difficult to do safely and is best avoided, especially for beginners. |
| Supported back | This goes hand in hand with the first rule. A carrier should support the natural curvature of baby's back. A too-loose wrap or an improperly-fitted structured carrier allows the torso to slump down, which can cause issues with spine development and a compromised airway. |
Additional Safety Tips:
Current BWI standards recommend wearing newborns in wraps or slings legs-out from from birth, instead of keeping their legs froggied inside the wrap. While the froggy position can be done safely, so long as all of baby's weight is on their bum and not their feet, it is not harmful to wear a balled-up newborn legs out and ensures that their weight is supported knee-to-knee instead of on their feet.
Forward facing should only be done in carriers designed to do so, and with babies that have strong trunk control (preferably able to sit unassisted) since the forward-facing position does not offer as much back/trunk/neck support. The general recommendation for forward facing is around 5 months old. Babies should never be allowed to sleep in a forward-facing position and should be turned tummy-to-tummy if they fall asleep. Many babies easily get overstimulated by forward facing, so the wearer should be vigilant for signs that baby needs to be turned around.
While wide-based "ergonomic" carriers that keep baby's legs in the recommended "M" position are typically more comfortable for long-term wearing (for both baby and wearer) there is simply no evidence to show that narrow based carriers cause any kind of short-term or long-term damage to healthy hips. If your baby has already developed any hip problems such as hip dysplasia, consult your pediatrician for safe wearing options; but for babies with no health problems, a narrow based carrier is a safe option, and often great for newborns who cannot fit knee-to-knee in an ergonomic carrier.

In addition, toddlers are at a severly reduced risk for developing hip displasia, so finding a carrier wide enough to fit your toddler or preschooler is more of a matter of their comfort. If they are comfortable with the panel supporting them to mid-thigh, that is perfectly fine. Be sure that the panel comes up to their armpits to prevent a fall risk, though.
--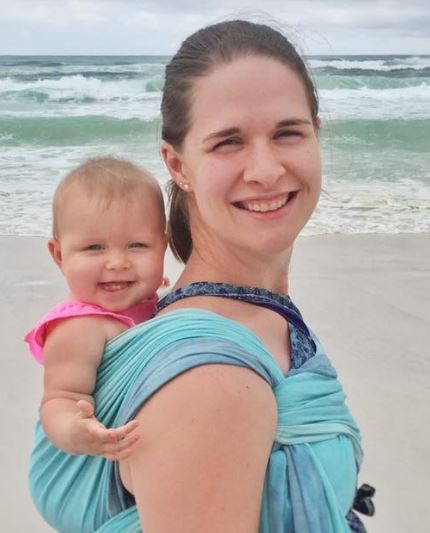 Alyssa Leonard - 2016-07-16
Return to Main
-
DIY Babywearing on Facebook

-
TICKS Rules for Safe Babywearing
-
4 Rules for Safe Fabric Selection