Ring Sling Shoulders: Pleated vs Hybrid vs Gathered
Shoulder styles are a completely personal decision. What works for one wearer may not be comfortable for another, and vice versa. There are infinite ways to sew the shoulder, which further complicates the matter. That said, the three most popular shoulder styles are Pleated, Hybrid, and Gathered. This chart highlights some of the advantages and disadvantages of each. In an ideal world, before making a ring sling, you should find a local babywearing group so that you can try on different shoulder styles to see what you like. In reality, though, not everyone has a local babywearing group or can make it to a meeting. A couple options for reality:
Using a tablecloth cut in half, make both a pleated sling and a gathered sling so you can try both
Sew the rings in using a wide basting stitch with a contrasting thread and try it on with a doll or a weighted purse so you can get a feel for how the shoulder spreads. The wide stitches and constrasting color will allow you to easily remove the thread to change the shoulder. Once you are confident in the shoulder style, re-sew the shoulder with matching thread and 3 lines of smaller stitches.
Make your ring sling with a little extra length to the tail, so if you hate the shoulder, you can simply chop the shoulder off and re-do it. Hem the tail shorter once you are confident that you like the shoulder.
Stick to a hybrid shoulder. Most people who LOVE pleated and HATE gathered, as well as most people who LOVE gathered and HATE pleated, can agree that a hybrid style is wearably comfortable.
| Pleated | Hybrid (including Eesti) | Gathered (including Floating Gathered) |
| --- | --- | --- |
| Shoulder is pleated evenly across the width to bring width down where it goes through the rings. It is then folded under and three lines of reinforcement stitching are sewn very close to the rings. Uses the least amount of fabric for the shoulder. Can be sewn with as little as 3" of extra length folded under. Lays neatly on the wearer's shoulder - no bunching or tangling. Easy to get the shoulder portion spread evenly, but does not spread very wide. Less likely to have the edges dig, but also does not distribute the weight of the baby quite as much as a gathered would. Generally (but not always) preferred by very small, thin wearers who feel overwhelmed by the wide spread of a gathered shoulder. On some smaller wearer, the "capped shoulder" of a gathered sling can extend from the neck all the way to the elbow, and pleats help contain this spread. | A few pleats on each rail, with the center of the wrap left straight to gather naturally. The fabric is folded through the rings and the three lines of reinforcement stitching are typically sewn fairly close to the rings. A "floating eesti" shoulder can be done with the stitching 9"-16" away from the rings; in this situation, you can add stitches lengthwise along the folds of the pleats in order to keep them neat and in place. Qualities are typically a balance between pleated and gathered. Less potentially diggy and spread than a gathered, but better weight distribution than a pleated. "Eesti" is a specific style of hybrid shoulder developed by Karen Hoppis. | Shoulder is left to bunch/spread naturally. Fabric is pulled through the rings, folded over and can either be sewn straight across with three lines of reinforcment close to the rings (5" or so) for a traditional gathered shoulder or further away (9"-16") for a floating gathered shoulder. Easiest style to sew. Can be more finicky to adjust on the shoulder; floating gathered especially, due to the double layer over the shoulder, can get bunched and tangled. Floating gathered has two layers of fabric across the shoulder, which adds cush and padding, and puts the seam on your back instead of on the front, where it risks causing a pressure point on your collarbone. While a poorly adjusted gathered shoulder can result in diggy rails, a well-adjusted gathered will give the best, most even weight distribution for longer wearing. |
--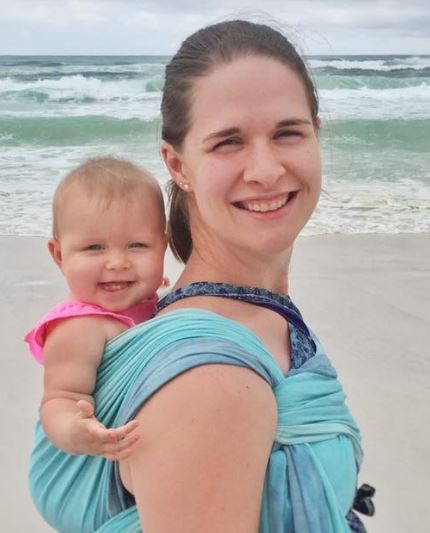 Alyssa Leonard - 2016-09-30
Return to Main - DIY Babywearing on Facebook

- TICKS Rules for Safe Babywearing - 4 Rules for Safe Fabric Selection