Also referred to as: pouches, tube slings, brand name Sevenslings, Hot Slings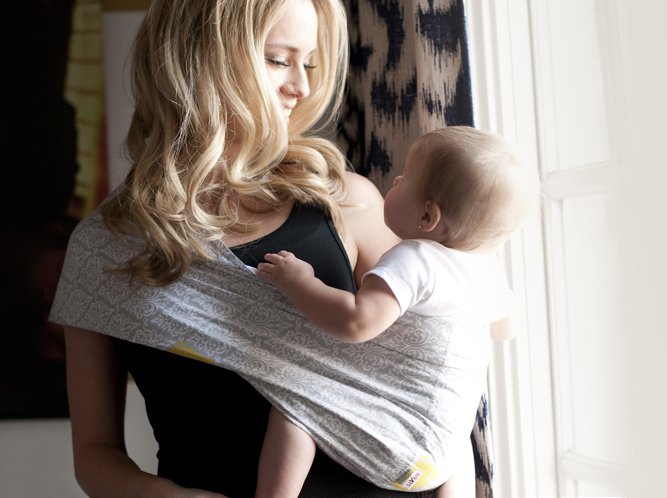 SevenSlings Hip Carry Image sourced from sevenslings.com
Description
A tube of woven (not-stretchy) fabric is sewn with a reinforcing seam. Worn diagonally like a sash, baby is then placed in the sling like a ring sling. Functions the same as a ring sling, except that there is no size adjustment.
Good For
Front Carries: rated for newborns; typically preferred for babies with strong trunk control due to the lack of support offered unless sizing is absolutely perfect.
Hip Carries: Good for babies with strong truck control
Back Carries: Experienced wearers with trustworthy toddlers or older children only. Single-pass back carries are a risk to children who might lean backwards.
Forward Facing: Good for babies with strong head control and decent truck control. Worn inside the "pouch" of the sling (instead of legs out) sitting cross-legged.
Advantages
Quick to put baby up and get baby out. Folds up incredibly small; can fit in a diaper bag or even a pants pocket for a back-up carrier. Very inexpensive.
Disadvantages
No ability to adjust size. Must be sized exactly right in order to provide proper support. One shoulder carries means that it can be less comfortable for longer wearing. Often advertised with newborns in a horizontal "cradle carry" which makes it very difficult to monitor breathing and keep baby from collapsing their chin to their chest. Not good for "seat poppers" or babies who tend to straighten their legs when worn.
Variations
Some brands such as <a href="http://wiki.babywearingdiy.com/do/edit/Main/HotSlings?topicparent=Main.CarrierTypes;nowysiwyg=0" rel="nofollow" title="HotSlings (this topic does not yet exist; you can create it)"> HotSlings </a> do offer some minimal adjustment ability.
Sizing
Sizing is very dependent on both the wearer's and child's size and cannot be adjusted. Therefore, a pouch sling that fits a mom with her newborn may not fit the same mom when her baby is a toddler. If a mom and dad of different sizes wanted pouches to use for two different age children, they therefore may end up needing four different pouches to accomodate all 4 combinations of parent and child.
How to use