Soda Ash
All of the information on this page was assembled in collaboration with the Facebook group Dyed Baby Carriers. If you have more questions regarding dyeing your baby carrier, join their group for assistance!
What is Soda Ash? Do I really need it?
Soda Ash (also known as Washing Soda, pH Up or Sodium Carbonate) is a dye fixative that raises the pH of the water, causing fiber reactive procion dyes to permanently bond with the fabric. For ideal results, a dye bath needs to reach a pH of 10.5-11. Soda ash is necessary for dyeing, scouring, and stripping. It should not be left out for any reason.
Safety Note:
Sodium Carbonate is caustic and not edible. Make sure the wear gloves while handling it, and use a mask to avoid inhaling any stirred up dust.
Some of the cheaper brands of dye, like Tulip and Dylon, do not mention soda ash in their dye instructions because the packets do actually include a small amount in them. However, the amount included in the packet is not really enough to properly raise the pH of the water to get ideal results, and so it is recommended to add soda ash to the dye bath or do a soda ash soak beforehand in order to achieve better results.
Where to Get Soda Ash
Sodium Carbonate (Soda Ash or Washing Soda) is not the same thing as Sodium Bicarbonate (Baking Soda.) While Baking Soda will raise the pH of the dye bath, it will not raise it enough for proper dye bonding.
For bulk amounts, one of the cheapest options for soda ash is to buy "pH up" or "pH plus" online, at a home improvement store, or at a local pool/spa supply store. Make sure to check the ingredients for Sodium Carbonate.
Arm & Hammer Super Washing Soda
.") In a pinch, you can chemically convert baking soda (sodium bicarbonate) into soda ash (sodium carbonate) by
baking it
.
When to Use It
There are three methods for introducing soda ash into the dye process:
A pre-soak before dyeing
Adding it into the dye bath itself
In a post-dye soak
Which method you use depends on the dye technique you are going to use. For example, for wax batik dyeing, it should be done no more than 20 minutes prior to pulling the fabric out as soda ash can corrode the wax and cause bleeding into the design. Pre-soaking is typically used for ice dyeing, tie dyeing and shibori. Adding it in during the bath is typically used for a basic tub/vat dye or grad dyes.
How to Soda Soak (pre- or post-dye)
Mix enough watter to completely submerge your fabric. Uneven soaking will lead to uneven soda ash distribution, which will effect dye saturation. For every 1 gallon of water, add:
1 cup of pH up
OR 1 + 1/3 cup of Washing Soda (commercial or homemade)
Mix until soda ash is completely dissolved, then submerge fabric and soak for a minimum of 30 minutes. (Longer soaking is fine but unnecessary.) Afterwards, remove fabric and wring out the excess. DO NOT rinse. If your washing machine will do a spin cycle (with no rinse), this can be used to remove excess liquid.
It is fine to let the soda-soaked fabric air-dry. There is no need to resoak before dyeing. Do not put soda-soaked fabric in the dryer, as soda ash can be flammable. If you do a soda soak, do a layer of dye, and rinse, then you will need to do another soda soak if you want to do another layer/color of dye on top.
Adding Soda Ash to a Dye Bath
To add soda ash directly to the dye bath, Dharma Trading recommends 1/3 cup of soda ash per every 3 gallons of water. You can add more if you are unsure, or you can
buy pH testing strips
if you want to be exact. The ideal level is between 10.5-11.
A Note About Sling Rings
If you are dyeing a carrier with aluminum sling rings, keep in mind that while soda ash will not harm the safety of the rings, it will completely ruin the finish on them. It is easiest to dye the fabric before constructing it, but if you must dye something with the rings sewn in, the recommendation is to wrap the rings carefully with plastic cling wrap (rotating so even the ring inside the fabric is wrapped) and then wrap that in duct tape or electrical tape.
Outside Links
More about soda ash: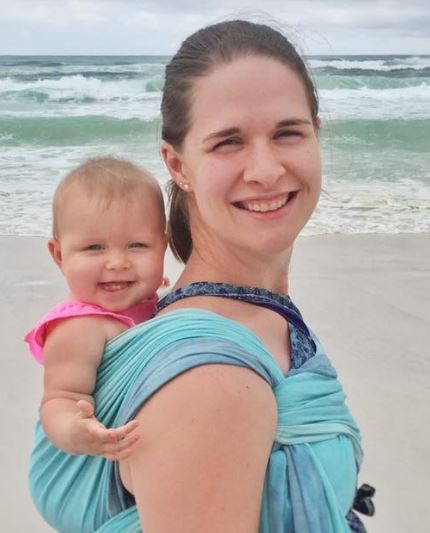 Alyssa Leonard - 2017-02-17