Also referred to as:
Reverse Onbu or Ruck-Bu
, although both of these terms do not do justice to the original language and should be avoided. They are listed here only for clarification's sake.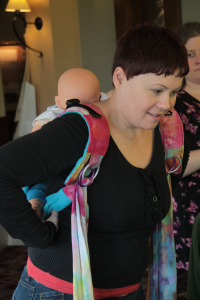 Reverse Onbuhimo
Image sourced from cherryberrybaby.co.uk
Description
A rectangular body panel with two shorter shoulder straps coming out of the top corners diagonally (usually padded) with double sling rings on each, and two long wrap straps coming out of the bottom corners horizontally. The bottom straps are pre-threaded through the double sling rings on the shoulder straps like one would a ring sling. Baby is put on to the wearer's back high with arms outside of the carrier, and the tails of the straps are pulled to tighten the shoulder straps. Tying off is optional (since the double sling rings lock the straps in place) but longer straps allows for reverse reinforcing passes for more support and/or a tibetan tie-off.
Good For
Front Carries: Not designed for front carries. Possible with long enough straps to cross in the back, add support with reinforcing passes and close off the open sides, but incredibly awkward to cross and thread the straps behind your back.
Hip Carries: Not designed for hip carries.
Back Carries: Babies who can sit independently only.
Forward Facing: Not designed for forward facing.
Advantages
Quick to put on and an unpoppable seat makes it easier to wear wiggly or difficult toddlers who may not have the patience for wrapping. Lack of waist belt is great for anybody who doesn't want the pressure on their waist, including (but not limited to) expectant mothers. Lack of waist belt and tie offs makes them great for tandem-wearing, since there is nothing to interfere with the front baby.
Disadvantages
More limited than other carriers, since onbuhimos are really best for older, independently sitting babies and only designed for back carries. Panel size is dependent on child's size. Therefore a parent who chooses to wear as their baby reaches toddlerhood or preschooler age may need to upgrade to a toddler-size or preschool-size carrier. Puts all the weight high and on the shoulders, which can be difficult for some wearers.
Variations
Padded Shoulder: rings are attached on top of a padded strap so the rings do not dig into the wearer's shoulder
Reverse X-onbuhimo or Reverse Blanketless Onbuhimo: Functions the same as a regular reverse onbuhimo, but instead of separate wrap straps, ring straps and body panel, it is constructed in an "X" shape with two narrow slings, where the overlap of the two slings acts as the "body panel."
Sizing
Body panel size is based on child's size. Baby needs to be able to fit in the carrier arms-out, but the panel must not be so low that baby can lean backwards. The width should be wide enough to support baby's legs from knee-pit to knee-pit, while still allowing the legs to swing freely at the knee. The strap length is flexible, but determined by wearer's size and whether or not the wearer wants to be able to do reinforcing passes or tibetan tie-offs.
How to Use