Pronounced "poh-DEH-gee" (hard G.) Also referred to as: pod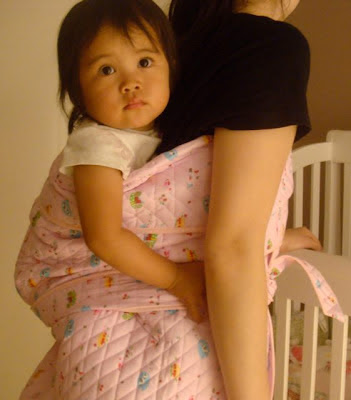 Traditional wide-blanket podaegi Back Carry Image sourced from littleseouls.blongspot.com
Description
Traditionally, a rectangular "blanket" is attached to a long, continous strap coming out horizontally from the top corners of the "blanket." The blanket is wide enough to wrap around both the wearee and the wearer.
Good For
Front Carries: Good for all ages
Hip Carries: Not designed for hip carries.
Back Carries: All ages (for experienced wearers only)
Forward Facing: Not designed for forward facing.
Advantages
Simple, traditional construction. Cozy for colder weather.
Disadvantages
Less common carrier makes documentation on usage harder to find. Safety standards have not been created for podaegis, so no commercial podaegis exist that pass current carrier safety testing.
Sizing
One size fits most. Total combined strap length should be somewhere between the wearer's "base size" wrap (the length needed in a wrap to do front wrap cross carry) and a base-2, so plus size wearers may occasionally need slightly longer straps.
How to Use