How to Make a Ring Sling
Cheat Sheet: After reading through the full tutorial, use this printable cheat sheet as a quick reference as you are working on your sling. RingSlingCheatSheet.pdf
Basic Breakdown of Steps
Pick a safe fabric
Buy the right amount of fabric
Buy safe rings
Scour your fabric (mandatory for osnaburg)
Wash your fabric
Dye your fabric (optional)
Cut to width
Hem 3 edges
Pick & sew the shoulder
Pockets and Accents (optional)
"Breaking in" or softening your sling
Learn to use it

Make sure to "expand" each section and read the full details the first time you read through.
1) Pick a safe fabric
Pick a bottomweight fabric that passes the
Four Rules of Fabric Selection
.
2) Buy the right amount of fabric
In general, 3 yards is plenty for almost every size wearer. Remember; you can always chop the tail shorter, but you can't make a too-short sling longer. You need to account for 10%-20% shrinkage and 5"-16" for the shoulder. 3 yards will allow for a 5" shoulder depth and 20% shrinkage and still make an XL sling.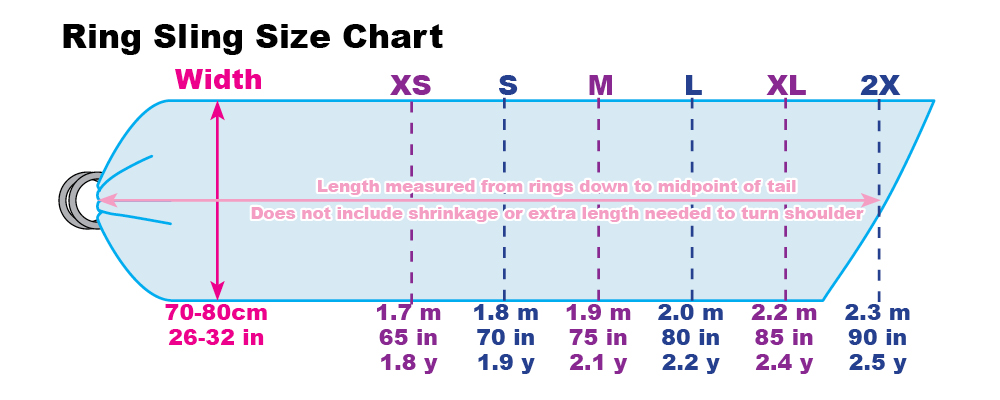 3) Buy Safe Rings
Most (not all) fabrics for a ring sling will work well in a single layer with 3" large sling rings. Expand below to see a more detailed chart. Always buy unwelded rings DESIGNED for babywearing that have been tested for weight and safe materials.
4) Scour
Scouring is a special deep-cleaning step. If you are using osnaburg, scouring is MANDATORY, even if you are not planning on dyeing the fabric. If you are using any other fabric, you can skip this step.
5) Wash & Dry
Make sure to wash and dry all fabrics before sewing. Not only does this ensure you are starting with a clean surface, it will also get any shrinkage out of the way upfront.
6) Dye (Optional)
Dyeing is not nearly as scary or difficult as it may seem, although it is important to make sure to use a fiber-reactive dye when dyeing something that will be in contact with a baby and permanently fix the dye using soda ash.
7) Cut to width
8) Hem your edges
Hem the two long edges of your fabric. If you are confident in your length, you can go ahead and hem the end of the tail as well.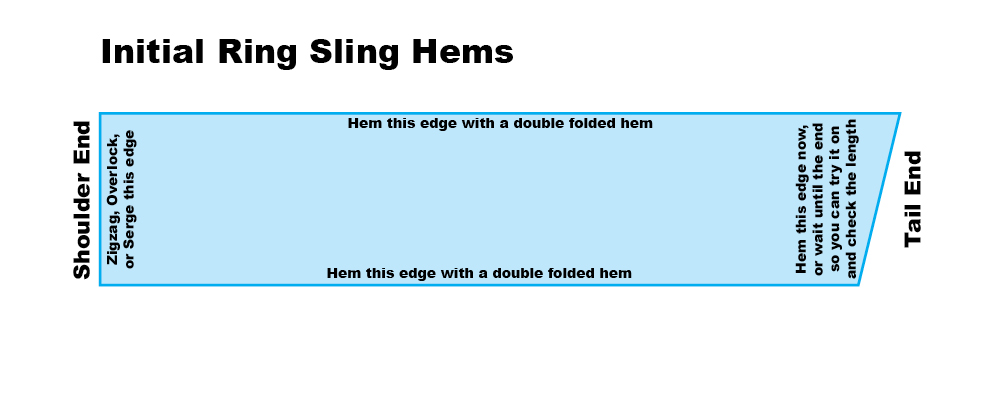 9) Pick & Sew Your Shoulder
Choose a shoulder style (a dice roll is a good method). After folding, ironing and pinning any desired pleats, fold the fabric through the rings and secure it in place with 3 parallel lines of stitching. Use 100% polyester thread and a heavy duty needle for this step.
10) Pockets and Accents (Optional)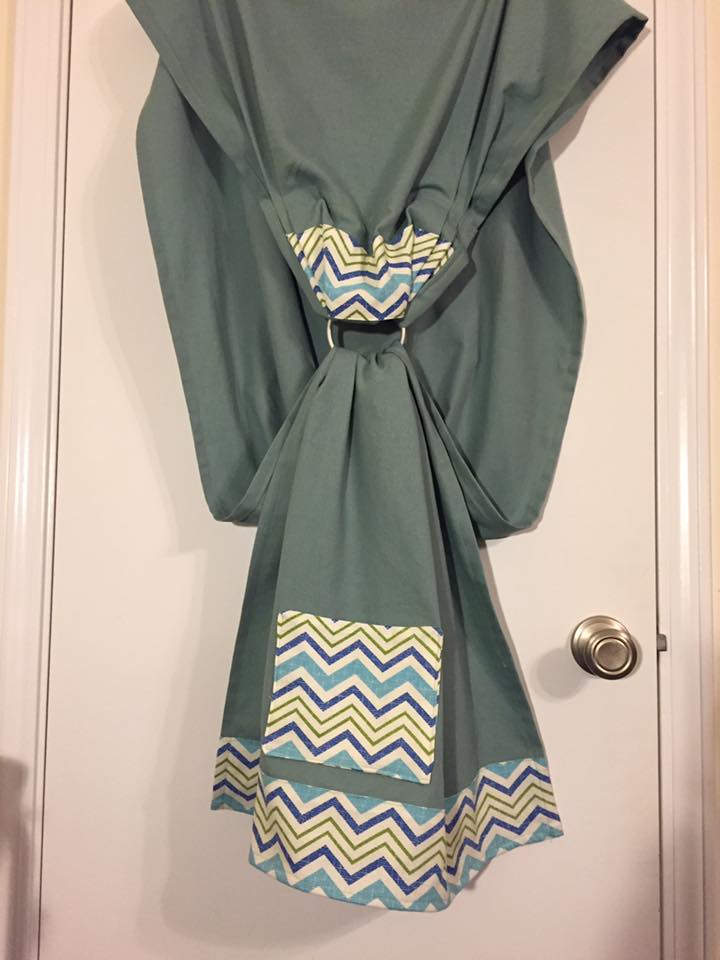 Pockets and accent pieces are a great option if your desired fabric pattern is only available in a thin, unsafe fabric like quilter's cotton. Sew decorative patterned accents onto a coordinating solid colored, wrap-safe fabric.
11) "Breaking in" or softening your sling
A brand new sling (especially DIY) will likely be stiff and difficult to adjust through the rings. Softening the fabric through gentle use and abuse will help. Do not use fabric softener to "soften" a wrap or sling.
12) Learn to use it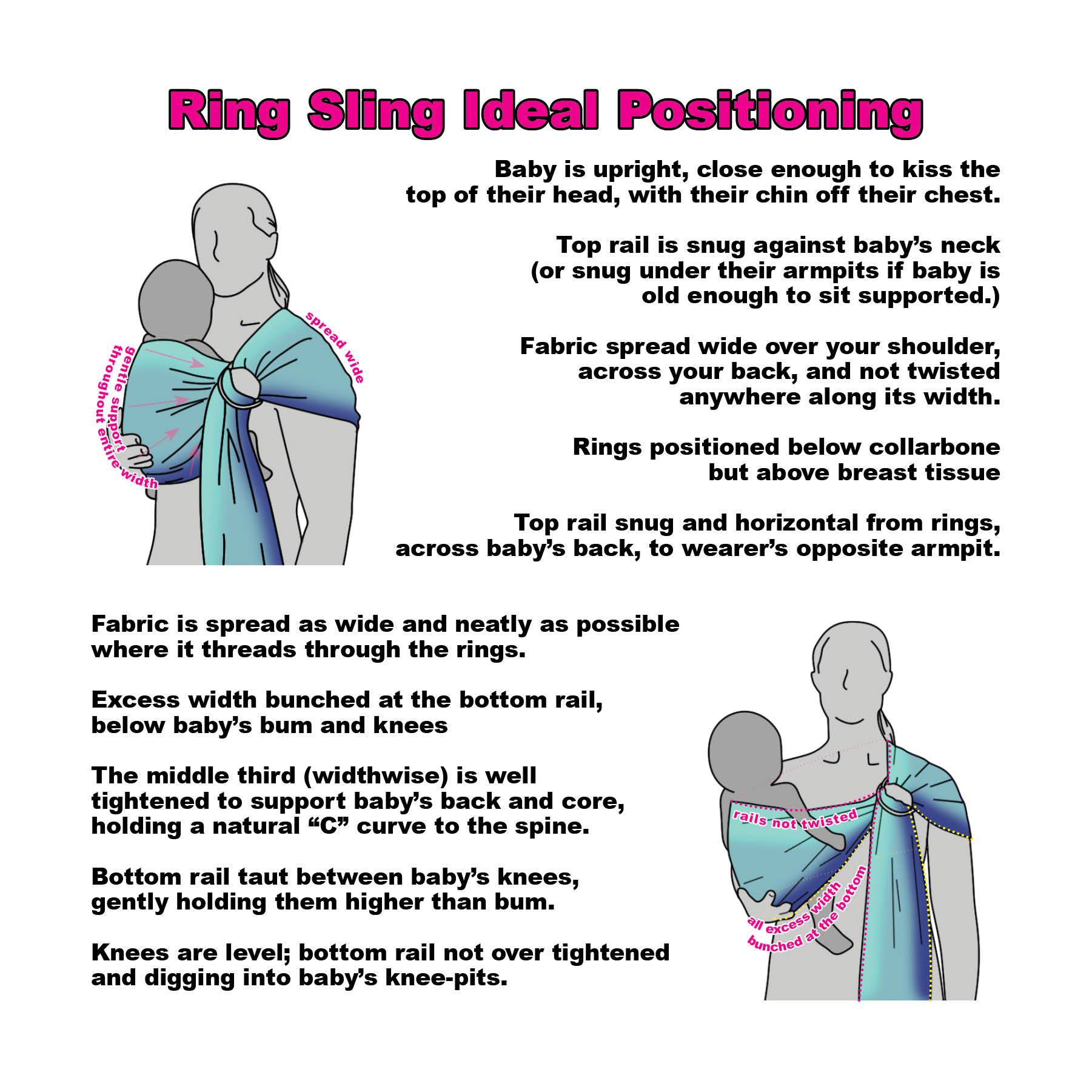 Always follows
TICKS rules
for safe babywearing, and practice a few times with a doll or weighted purse before trying with a child.
Clicking here
will start a playlist of my favorite ring sling videos.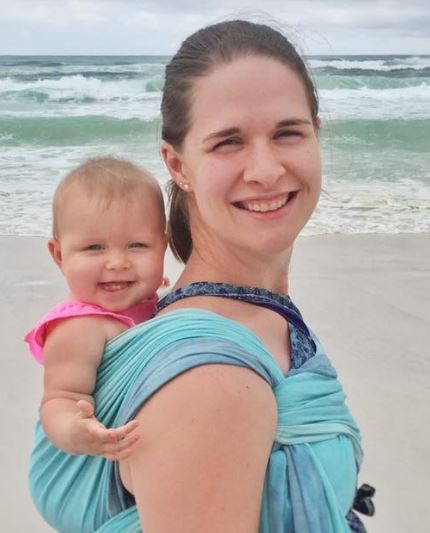 Alyssa Leonard - 2016-07-16
</a>
Return to Main - DIY Babywearing on Facebook

- TICKS Rules for Safe Babywearing - 4 Rules for Safe Fabric Selection